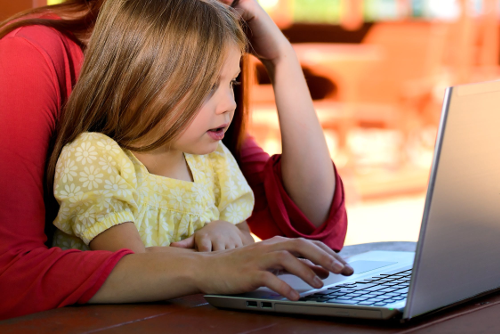 You've been looking forward to this day off with the kids, having planned a wonderful trip to the park for some fun in the sun and a picnic on the grass. But the weather has frowned on your plans, sending gray clouds and pouring rain to spoil your outing and keep you stuck indoors when you should be playing outside. It's a bummer, but don't fret for long because there are plenty of indoor activities that are as fun as they are educational. In fact, the little ones may learn more than they do at school with you there to guide them. Here are some ideas.
Play Math Games
Sounds boring, right? Well, it isn't if you know where to find the right lessons, and that's where Coolmath Games comes in. You'll find dozens of activities that'll have your kids adding, subtracting, multiplying and dividing without even realizing how much work they're getting done or how far they're advancing in their arithmetic skills. The little ones will be too busy racing taxis and escaping monsters to even care.
Study Music
It's not hard to locate lessons for piano, guitar and flute via webcam with qualified and engaging instructors from all over the country. If your child hasn't started playing an instrument, now's the time to introduce to them to some different forms of music so they know what's out there. For budding vocalists, pick a song they like, find the lyrics and sing along together while clapping your hands to the beat.
Draw Pictures
Let them amaze you with their creative talents thanks to some online drawing tutorials. They'll be guided step-by-step and line by line in rendering a variety of fascinating pictures that include their favorite Disney characters as well as dinosaurs, animals and monsters. The only problem is there are so many options they may have trouble choosing one.
Make a Snack
You may be feeling a little peckish at this point, so it's off to the kitchen, laptop in hand, where the kids will do most of the work in preparing a delicious and healthy snack to keep everybody going strong. You'll even find a recipe based on the famous Stone Soup tale. If that doesn't tickle your fancy, try the wiener weenie dogs, which should get the little ones giggling and their mouths watering.
Explore Science
Bellies full, it's time to get to work in your makeshift laboratory, and your kitchen should serve well once you've cleaned up the remainder of your snack. There are plenty of hands-on projects that bring science to life outside of the musty old textbook. Your little scientists conjure up bubbling lava using nothing more than a glass, food coloring, vegetable oil, salt and water.
Tell a Story Together
It helps develop verbal fluency, expands vocabulary and builds confidence speaking in front of groups, which is quite an impressive list of benefits for a fun activity that gets kids' minds humming. Doing it as a group allows everyone a chance to participate, and if you have any questions on how it works, visit Super Easy Storytelling for some pointers.
Get Some Exercise
Bye this point, the kids are probably itching to get up and move their bodies a little, so let them, because they could use the exercise anyway. There's no need to go further than Youtube as they have a variety of videos that teach the tikes aerobics, dancing, stretching and even yoga.
Watch the News
The little ones have probably wondered what keeps their dad entranced in front of the TV every evening. Well, the regular news probably isn't for them, but there is a kid-friendly format that will teach them about the world. You'll find it at Dogo New, which provides "fodder for young minds" by keeping them up to date with the current events that they'll find interesting.
That should make for a great day of learning with activities for any kid to enjoy. In fact, you may just want to stay inside when the sun comes out.
Image via Pexels.
Written by guest blogger, Jenny Wise, Special Home Educator