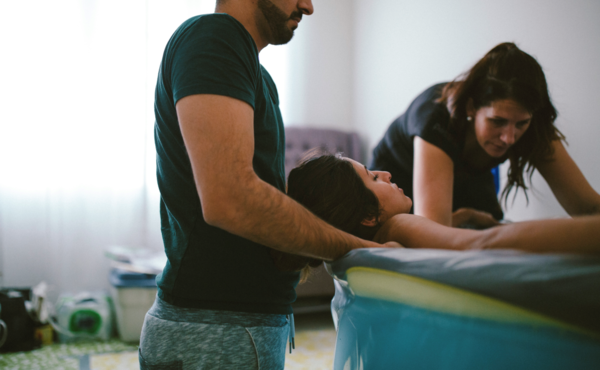 Photo credit: Kieran Darcy
Over the past 5 years, I have had the honour of walking alongside so many wonderful families all over the GTA as they welcomed their awesome babies. It is my dream job (although it doesn't feel like a job!) and I am so thankful for the many moms, dads, partners, grandparents and extended families that have trusted me over the years. As people find out more and more about birth doulas, the most common questions I get are 'what does a doula do", "what's the difference between a doula and a midwife", and "what about the dad/partner? What role will they have if you are also there to support the birthing mom?" All of these are great questions! But I have to say my favourite question was asked early on in my doula career by a hands on partner who wanted to know "What are the 3 things you use at every birth?"
He asked this question because he had taken lots of classes and read lots of books and felt that he was pretty well versed on how to support his wife. But, due to all of his knowledge, he also felt that he wasn't trained specifically in the ebbs and flows of birth and wanted to know what role on their team I would uniquely fill. I LOVE this question as it is one that most people I meet with want to know but don't think to ask.
So, here is my list of the 3 Things That I Use At Every Birth.
#1: My Voice
During birth, your senses as the labouring mother are all heightened. And as labour progresses and gains in intensity each mother needs to find her own rhythm and ritual to aid her in breathing and letting tension go through each contraction. This is where I come in. I use a variety of gentle, guided relaxation breathing prompts as the birth sensation begins, builds and then recedes. I use the knowledge that I've gained in my prenatal visits with moms to use words and phrases that would best suit and motivate her. Although I do not teach Hypnobirthing or Hypnobabies, etc, I am trained in stepping in and supporting a mom who has taken these classes and wishes to use these techniques. I believe that, although there are some similarities to how each birthing mom needs support, that each birth is unique and specific to each mom. So, I pride myself in my adaptability to support every mom where she is; not to guide her to where I think she should be.
Where the partner fits in
As I am guiding mom in the breathing and relaxation techniques, this is where your parter shines! Your partner knows you better than anyone in the room. Your partner loves you more than anyone in the room does. And it is this connection with you that has amazing benefits! Oxytocin is the natural love hormone that is necessary for birth sensations to begin and to build. Who better to help foster an oxytocin friendly environment than your partner? Often partners aren't sure what to say and how to specifically guide you through each sensation.  That's the benefit of having me there! 🙂 I can support mom in the ways I am trained to, and your partner can, with a touch, a presence and words tell you how amazing you are, how strong you are, and how they can't wait until your baby is here.
#2: My Hands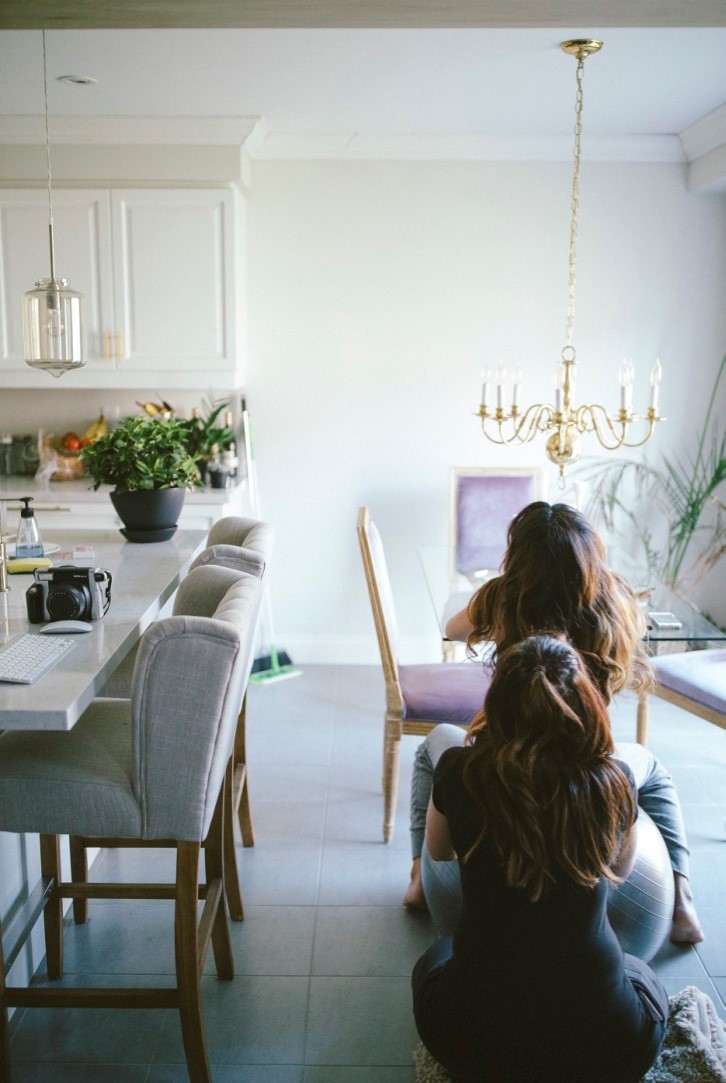 Photo Credit: Kieran Darcy
How to provide hands on support for a labouring mom was a key part of my doula training. There are many different positions that not only support mom and give her some relief, but are also great positions for baby as they make their way to her arms.
Applying counter pressure via a double hip squeeze during each sensation is something that most moms absolutely love at some point during their labour. As baby makes their way out of the uterus and into the birth canal, mom can often feel more pressure in her lower back. This is where applying sacral pressure to her sacrum (located in the middle of her back, at the very bottom) can greatly assist in comfort for mom. I also have a rebozo (a long flat piece of fabric) that I can use to bring comfort to moms and also can be used to aid in babies positioning during labour. Having experienced labour and childbirth personally four different times has also heightened my senses and intuition of what may give relief and support to a mom during each sensation. Often something as seemingly innocuous as a gentle massage on mom's back in between sensations can help her greatly in getting into her rhythm and ritual mindset. I've often gone from performing the double hip squeeze to a rhythmic massage on her back and if I stop to take a drink, mom will turn her head and say "Please keep going! That helps so much!" 🙂
Where the Partner Fits In
Similar to how the parter can provide support with their words, your partner's touch can bring a huge amount of relief and reassurance. I love to show partners how I do certain counter pressure techniques and love when they gain confidence as they do them. I'm a visual learner and have found that a lot of partners are too. They often watch for the first little while and then when I suggest they step in and try, they are quick to learn how to do it. Aside from the technical moves, having your partner right beside you, holding your hand, stroking your hair or face, or giving one of their awesome back or foot rubs can bring amazing support and relief as you labour.
#3: My Patience (Holding Space)
Just like it took 10 months for your babe to grow and develop, birth can take time. Your body may have a few starts and stops over several days (or weeks!) as it preps for active labour. This pre-labour and early labour stage can be emotionally and physically draining on both mom and partner. I make it a high priority prenatally to really go over the importance of patience during this stage. I make it a point to simply BE with moms and partners during this stage. This may be to just listen, or it may be to encourage them to shift perspective – to make these next few hours and/or days before babe, a special bonding time with just them – to see how special this time is..the time between 'almost and not yet', and to hold space with them there. Then once labour actually begins and babe is ready to get things moving and I am on my way to them, I am very conscious of the need for me to model patience for them, and to be in tune enough to recognize the moments when my voice or my hands aren't needed…that the greatest tool in some moments of birth is simply holding space.
And finally as baby is birthed and mom and her partner finally get to see and hold and kiss and love their new sweet baby, I quietly take pictures and videos of those amazing first moments. And as much as possible, foster an environment in the room that respects those first incredible and life changing moments.
Where the Partner Fits In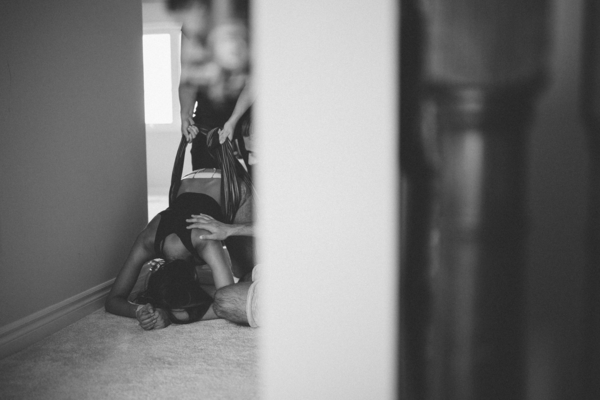 Photo Credit: Kieran Darcy
The most common thing I hear partners say at births or prenatally is "I just want to help her." And it really wasn't until I became a doula that I fully appreciated how difficult and emotionally draining the role of the support person could be. And that is amplified 1000% for your partner as they love you and it can be so difficult to see the one you love in pain. And because of this enormous love and concern they have for you, sometimes it is difficult for them to remember what your birth wishes are – especially when all they want to do is take your pain away. But once your partner is able to see the tremendous value in simply holding space for you and simply BE by your side, it's really amazing to watch what happens. It empowers the birthing mom in an amazing way! She can "read" her partner better than anyone else, so when her partner's face is lined with worry or doubt, she can see that. But, when she sees her partner calmly and confidently just BE-ing, the calm and confidence transfers to her and empowers her to trust her body.
_____________________________________________________________________________
So those are the 3 things every birth needs! We have many other tools that we bring and use at different births and during different stages of labour, but these three things are the foundation – My Voice, My Hands and My Patience are the 3 that we use every single time.
This blog was written by our Birth Doulas.  Setting up a FREE consultation with a Birth Doula is easy! Visit us here!