"He's fast asleep after rocking & wakes up when I put him down. The process can literally last hours…rock, sleep, move to bed, wake…and most often when I have a list of 100 things to do before I go to bed"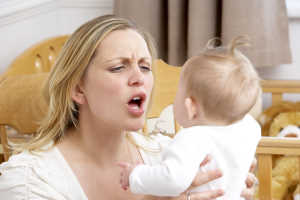 When I had my first baby, I thought I would never be "one of those moms who got angry". It didn't take long before I was startled by the intense frustration that comes from trying to be a mom to an unpredictable, often difficult to understand, little human. I felt guilty & embarrassed. How could I be angry? This isn't the mom I thought I would be!
Most people are told to expect to feel tired, maybe a little lost, even frustrated, but there seems to be a taboo around admitting that sometimes, moms feel downright angry towards their babies! Yes, we all know that it's not "logical" and baby isn't doing it on purpose, but the reality remains that sometimes moms are pushed to their limits, and they feel angry!
I compiled this list from previous clients and moms from my Emerging Mothers group to help other moms, feel less isolated. I asked moms, " Which situations make you well up with anger and frustration?" Here it is, in their words !
"Mama needs 30 seconds to pee, talking to you the whole time, calm the heck down"
"I am angry when baby is angry with a "not-so-obvious-reason". For ex 45 minutes after sleep, scream and kick…holding her or rocking is no use… Makes me angry but two angry people usually make the situation worse… Trying to stay calm"
"Very early morning wake ups and short naps!
"Throwing food on the floor (repeatedly)"
"Poopy diaper just as we are heading out the door"
"Pooping the second his butt hits the mattress after being nursed/rocked to sleep for what is supposed to be a long nap, after a long (long) night of sleep training, when mama was going to try to sleep."
"When he falls asleep on your shoulder after 20 min of rocking and as soon as you put him down in crib he wakes up and is smiling"
"When he's extremely tired but just fights going to sleep even though he's yawning and rubbing eyes tons"
"When things start improving in a certain area (whatever it may be) and then all of a sudden, bam, it's back to being craptastic. Mmhmm. Yep. False hope/ teasers make me an angry mama."
As a coach for new moms, I talk to lots of moms who feel angry. Moms want help coping with frustration in ways that help them feel more in control. I help moms find ways to cope, that they might not have thought of! Sometimes, it's hard to find that gentle acceptance or to think clearly about a particular situation. Having someone to talk though your feelings with, and coming up with a plan, can make all the difference. If you are tired of feeling like you are often at the end of your rope, let's connect! We will find ways for you to feel more self-compassion, and gain insight into why you are feeling this way. Book a time or call me, Nelia. No judgment here – I promise
Nelia DeAmaral, CLD, HBsc, YNC., has been a Personal Coach, Yoga/Mindfulness teacher & Certified Doula for over 20 years. Her approach is a creative and personalized blend of mindfulness practices, mind-body awareness, and concrete solution-focused coaching.
Nelia is a Certified member of CAPPA Canada and a published author (Bearing Witness, Joyful Birth, Lamaze: Giving Birth With Confidence& Sage Magazine). She has a degree in Psychology and specialized training in solution-focused counseling, perinatal depression, anxiety, birth trauma healing, and perinatal bereavement. She is also a trainer offering professional development locally & internationally on utilizing mindfulness-based strategies to help facilitate change. Book a session with Nelia by booking online or calling The WOMB at 905.842.2434.